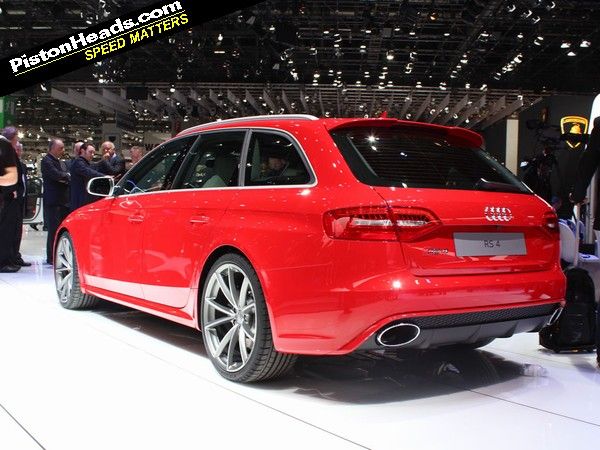 It's a busy show for Audi and the new A3 is the mainstream focus for both the PRs and hacks.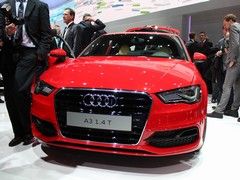 Yes, that really is the all-new A3
But we're not the mainstream and we're more naturally inclined to the
return of the RS4
and the hope it's got even a taste of its predecessor's fire. And why did we love the old one so much? The relative simplicity over its tech-laden successors, best demonstrated by the technologically impressive but dynamically disappointing RS5.
Debuting in Avant form is a good start, ditto the fact Audi has uncharacteristically backed away from horsepower willy waggling and stuck with the high-revving, normally aspirated 4.2-litre V8. 450hp is, by any stretch, adequate but, as discussed by Mr Harris, perhaps signals a retreat from ever more pointless horsepower Top Trumps.
Ur Quattro/RS6 style wheelarch flares add a bit of aggression to what could otherwise be lost in a line-up of S line A4 TDI Avants and under the skin the RS4 shares much with the aforementioned RS5. We'll have to wait and see if Quattro GmbH has managed to eke a bit more character and poise out of the same raw ingredients, a chat with Quattro boss Stephan Reil later on hopefully shedding some light on how they've done that.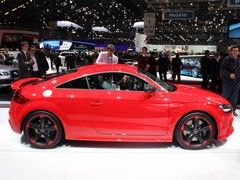 TT RS Plus adds more power and bling
The blink-and-you'd-miss-it new A3 is incredible for quite how little it's changed visually from the existing car. Which underplays the significance of the fact it's the first car on VW's new MQB platform. The first of many, VW boasting that 40 cars will use it over the next few years. So we'd best hope it's good. Encouragingly it's lighter – 80kg lighter in the A3's case – and can be turned into anything from hatches to crossovers and saloons.
Indeed, as a 1.4 TFSI the A3 weighs just 1,175kg. This is the same 122hp turbo engine that we sampled recently in the A1 Competition Line and it's a cracker, with a lovely revvy nature that belies its forced induction. Should make for a great combination with the new A3's svelte kerbweight. At launch there'll also be a 1.8 180hp petrol and a 150hp 2.0-litre TDI. The 1.8 gets seven-speed S tronic as standard, the others six-speed manuals. Two stages of suspension tweakage are available, Sport lowering the car by 15mm and S line by 25mm. Inside it's all very Audi, with a renewed focus on connectivity through the MMI system.
Other PH-worthy debuts on the Audi stand include a hopped-up TT RS Plus, a 20hp upgrade to the regular TT RS that addresses the one issue the car didn't have, that being a lack of power. Red-rimmed alloys a la RS3 and black-capped door mirrors are among the visual upgrades – expect a £50K dent in your wallet if having one up on your TT RS-owning mates is the kind of thing that matters.