With a new Ferrari debuting too Lamborghini is claiming its share of the Geneva spotlight the only way it knows how with this spectacular Aventador J,
for those who think the standard car just a tad too shy and retiring. Unveiled before the show at the VW group preview evening, this one-off special is one of many such cars in the pipeline Lambo says.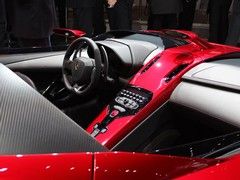 Interior features patented carbon upholstery
So this isn't the Aventador Spider. Not yet anyway. The J - allusions to Miura Jota and the FIA 'appendix J' guidelines for homologation classes apparently the inspiration, ditto some nonsense about pushing the rules to the limit - is a more extreme flight of fancy that gets rid of the windscreen as well as the roof. A very expensive way to mess up your hair and get bugs in your teeth in other words, Lamborghini saying drivers are 'required' to have the 'right equipment' for fully enjoying the Aventador J's talents. As if it's going to be used for anything more barnet taxing than low speed/noisy posing around Monaco/the supercar hunting ground of your choosing.
The Aventador's carbon monocoque has been revised to make up for the loss of vital bodywork with new roll hoops behind the seats and luxuries like air con and sat nav ripped out. Lamborghini's not saying whether this strips any kilos off the standard Aventador's 1,575kg dry weight but the implication is there that the J's performance is even more extreme.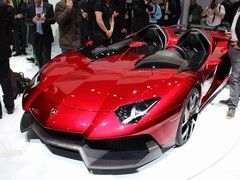 The only car to make the F12 look dull
As it stands it gets the same 700hp, 6.5-litre V12 as the standard Aventador, the J's visual impact increased further with F1-style front and rear aero features and carbon-centred wheels. This carbon overload continues inside with a patented new 'carbonskin' flexible carbon fibre 'fabric' upholstery on the fixed, carbon framed seats. Lamborghini even claims the material could be used for what it describes as 'high end clothing' in the future.
Meanwhile a periscope-style rear view mirror harks back to a trademark feature of early Countach models. Even Lambo can't resist a bit of nostalgia it seems.
Daft? Yes. Spectacular? Of course. And the J will go on sale. This one and this one only, for there will be only one and, unusually, Lamborghini won't be keeping it for itself. Indeed it's already been sold. Price? 2.1 million Euros. Plus taxes.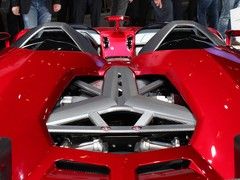 New carbon cross piece covers engine