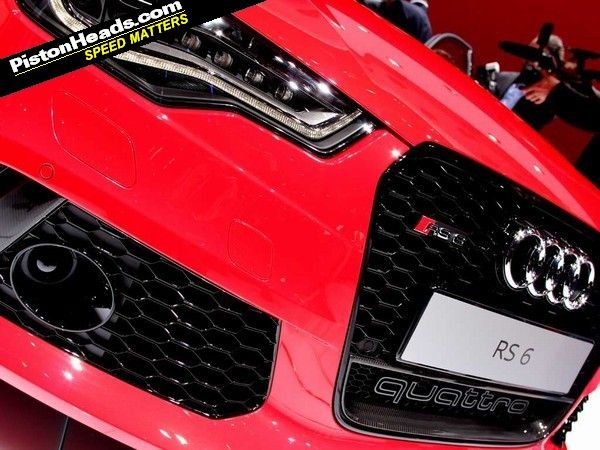 If you hadn't caught on already the Audi stand at an international motor show is where the sheer scale and perceived dominance of the brand really hits home. Along with the homogeneity of some of the design. Obviously Audis aren't exactly a rare sight on the road but when confronted with a vast display of them picking out the one you were looking for isn't always easy, especially when they're all painted the same colour. There's the new RS6! No, hang on, it's an RS4. Is that the S3? Nope, some sort of -Tron suffixed hybrid thingy.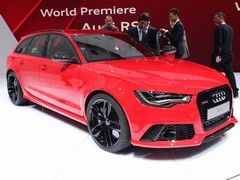 New RS6 has 'downsized' to twin-turbo V8
To be fair to the new RS6 it wasn't that hard to pick out. It was the one with black wheels. And it does look pretty damned mean, if not entirely dissimilar to the two previous RS6s. Surprise! Not sure about this new fashion for the Quattro script in the front valance - maybe that was the additional uberholprestige boss Rupert Stadler was on about at the preview night to set the RS apart from the hordes of S Line wannabes.
You can read the details of the tech spec in our earlier article here but the headlines are 560hp from the 'downsized' 4.0-litre twin-turbo V8 with a mighty 516lb ft of torque driving the already ubiquitous ZF eight-speeder. 0-62 is in 3.9 seconds and you can have the 155mph limiter raised to 174mph or 189mph. And it'll do nearly 30mpg thanks to cylinder cut-off.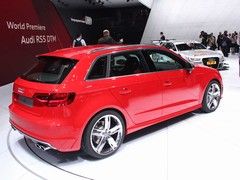 300hp for five-door Sportback version of new S3
Similar stats to the
RS7 Sportback
, which is making its European debut here too, as it happens. Another hot Sportback was also making its debut - this time
the S3
. It'll take an RS version to really offer a rival to
the A45 AMG
unveiled across the way at Mercedes but you can be sure Quattro GmbH will be looking closely at AMG's entry into the four-wheel drive premium mega hatch market.
Then there's the RS Q3 which, surprisingly, was in amongst the general ranks of Audi models. An RS-branded SUV? Well, few surprises there and it is what it is.
Moving swiftly on Audi also unveiled its new 2013 DTM RS5, which looks suitable mean and moody and was driven onto the stage by new Brit signing Jamie Green, poached from Mercedes. Enough to take on the winning BMW M3 this year? If looks could kill and all that..
.