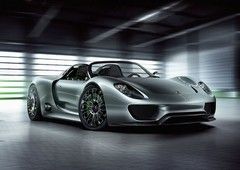 Porsche has unveiled an ultra-efficient, low-emission, mid-engine super sports car featuring hybrid and electric drive technology.
The 918 Spyder concept combines high-tech racing features with electric-mobility to offer a fascinating range of qualities, the company says - including an emission level of just 70 grams of CO2 per kilometre, and 78 mpg.
In case you think that all sounds a bit ominous, the performance is 'fascinating' too. How does which a standstill to 62mph time of just under 3.2 seconds grab you? Porsche also claims a top speed of 198 mph, and a lap time on the Nordschleife of less than 7:30 minutes, faster than the Porsche Carrera GT.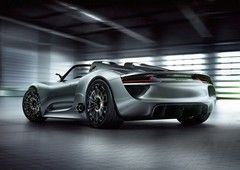 The open two-seater's impressive numbers come from a high-revving V8 developing more than 500bhp at a maximum engine speed of 9,200rpm, as well as electric motors on the front and rear axle with an overall mechanical output of 218bhp.
The V8 is said to be the next step in the evolution of the 3.4- liter power unit already featured in the RS Spyder racing car and, positioned in front of the rear axle, gives the car excellent balance for track performance.
Power is transmitted by a seven-speed PDK transmission that feeds the power of the electric drive system to the rear axle. The front-wheel electric drive powers the wheels through a fixed transmission ratio.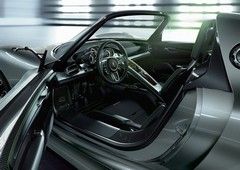 The energy reservoir is a fluid-cooled lithium-ion battery positioned behind the passenger cell. The big advantage of a plug-in hybrid is that the battery can be charged on the regular electrical network, says Porsche.