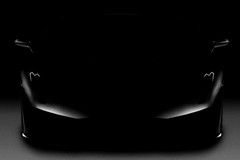 Ah, the "symbiosis of the ultimate hypercar and active environmental care". The ultimate dream of so many petrolheads...
Well, possibly not, but if said marriage of fast car and eco-cred yields a product even an eighth as fascinating as what Rotary Supercars Germany (whose words we quote) claims to be working on, then we're in.
It is called the RSC Predator GT, and its developers hope to unveil prototypes of the car in 2012 - possibly at the Top Marques show in Monaco next April.
But what exactly is it? Well, unlike most fledgling (and fanciful) supercar projects, which tend to stick something along the lines of American V8, plus forced induction, plus mid-engined spaceframe equals all-new supercar, the Predator GT is rather more - er - ambitious.
In basic form, its power will come from a 2.6-litre, four-rotor, twin-turbo rotary engine. This will, its creators assure the world via their website, produce 1200hpand 1110lb ft of torque, running on E85 bio-ethanol and yet produce the emissions of a car with just 120hp.
Performance should be equally impressive, with 62mph dealt with in less than 3.0secs, 125mph reached in less than 7.0secs, and 250mph from rest on the cards in 25.0secs.
And that's just the basic car. Rotary Supercars also reckons on creating a 2800hp, 2580lb ft version with a 5.2-litre, quad-turbo eight-rotor engine. Performance for that? How about 0-62mph in 0.9secs and 0-250mph in 4.8secs?
You certainly can't deny that RSC is a company with a lot of ambition, if not (from the looks of it ) all that much sanity. Honestly, take a look at the specification section of Rotary Supercars Germany's website. It's quite a giggle...