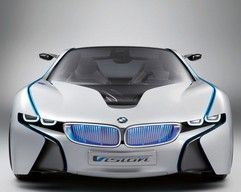 BMW is set to launch its 'i' eco sub-brand in 2013 - and one of the first models launched will be the i8 super-coupe, a production version of the
Vision Efficient Dynamics concept from the 2009 Frankfurt show
.
BMW's announcement confirms the rumours we first reported on back in summer 2010 - that the new diesel-electric hybrid coupe will be based on the dramatic 356hp Frankfurt concept.
What BMW's announcement makes no mention of are the whispers suggesting that an 'M' version of the i8 could also be on the cards - with a straight-six petrol motor and a super-capacitor to boost power. Here's hoping that one proves true as well...
The BMW i brand will be the umbrella under which the company will produce what it calls 'sustainable vehicles and mobility solutions' - essentially electric cars and plug-in hybrids.
Joining the i8 in production at BMW's Leipzig plant will be the i3, a fully electric city car.