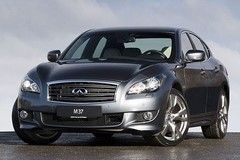 The recently announced strategic and technical alliance between Renault-Nissan and Daimler has already borne plenty of rumour-fruit, but the latest whisperings are particularly interesting.
Japanese car magazine Best Car has reported that the replacements for the current Infiniti M saloon and G coupe will share a common platform architecture with the Mercedes E-class.
There's no official confirmation from Merc or Renault-Nissan, but it's a move that makes sense: Mercedes-Benz is already set donate four- and six-cylinder petrol and diesel engines to Infiniti, so a broader platform-sharing strategy is a natural step forward from that.
So, what with this news and the possibility of some high-speed Infiniti models in the future, does that mean a twin-turbo Mercedes V8 could find its way into an Infiniti M or G? It certainly sounds like an intriguing prospect, albeit a bit far-fetched...