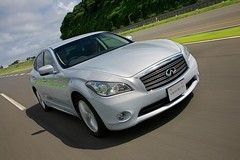 This is the new Infiniti M35h, the first-ever hybrid from Infiniti and the range-topper for its new M-series saloon.
Okay, so Infiniti perhaps isn't the most exciting or glamorous of luxury car brands, and hybrids do (often quite rightly) tend to get rather a rocky reception here at PH, but this is Infiniti's most powerful saloon, so we feel it does just about merit mention on PH.
Conventional power comes from a 302bhp 3.5-litre V6, with up to 67bhp of electric assistance, which makes for a combined peak power output of 359bhp.
That's enough to get the slippery (Cd of 0.26) and comparatively featherweight (at 1830kg the M35h actually weighs less than its M30d diesel sibling) car to 62mph from rest in a respectable 5.5secs and on to a limited 155mph top speed.
Considering that's combined with CO2 emissions of just 162g/km and an official combined fuel consumption figure of 40.4mpg, that's not half bad - you'd need a BMW 535d to better the fuel consumption, and even then the Infiniti would be marginally quicker.
That sort of economy cuts the first-year road tax down to a distinctly reasonable £155, and makes company car tax significantly less of a sting, too.
The M35h can also hit speeds of up to 50mph on electric power alone, which is an amusing party trick.
If you simply must have that BMW, then the Infiniti badge is not going to tempt you, but we have to admit that the numbers look like they might stack up. Especially if you don't want to drive something German and diesel-powered.
The M35h will be rolled out across Europe in the spring, with pricing announced at the Geneva motor show in March.