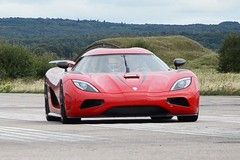 A very fast koenigsegg...
The
Koenigsegg Agera R
has set a string of production car records at its proving ground in Ängelholm, Sweden, becoming in the process the most accelerative car from 0-200mph ever.
The records are as yet unofficial (though they have been submitted to the Guinness Book of World Records) though that doesn't make them any less spectacular.
The Agera R managed 0-200mph in 17.68secs and 200-0 mph in just 7.28secs (making 0-200-0mph in a thoroughly impressive 24.96secs).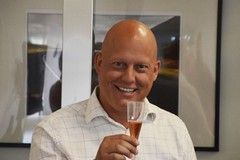 ...and a happy Christian Von Koenigsegg
The Swedish hypercar also posted 0-300km/h in 14.53secs and 300-0km/h in 6.66secs.
Quite fast, then. Koenigsegg tells us they're preparing a video for the wilds of YouTube showing the run, which we'll bring to you as soon as it appears - so watch this space.