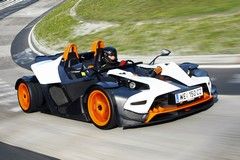 This is the first working prototype of the new KTM X-Bow R, a hardcore version of the already pretty hardcore track car from the Austrian bike maker.
After a couple of years on sale, and 500 X-Bows down the line, KTM has decided that the time is right for a faster version, and has given the R 300horsepower - up from the original's 240hp.
In order to get the extra power from the Audi-sourced turbocharged 2.0-litre motor KTM says, rather endearingly, that it has made, "changes to the engine electronics and peripheral devices" to boost the engine to 300 horsepower.
The X-Bow R isn't just a matter of extra power, however; the engine has also been lowered in the chassis for an improved centre of gravity, and two optional equipment packages have been revealed. These are 'Sport' for road-going X-Bows, and 'Race', for those who don't want to compromise on-circuit performance in the cause of a pesky numberplate and tax disc.
KTM also says that its existing customers will be able to make many of the R upgrades to their own cars.
That's it for details for now - KTM promises more pics, prices and specs in the new year...