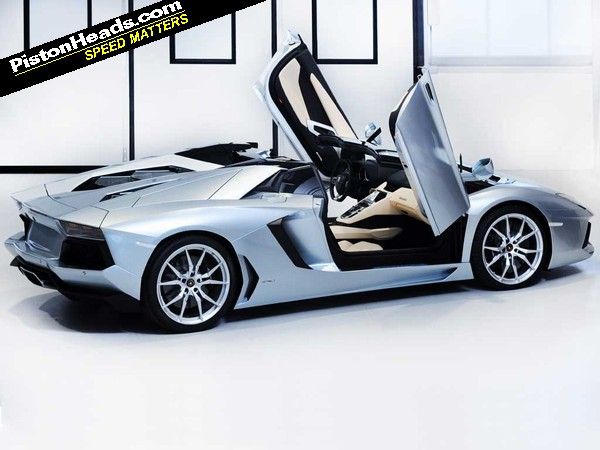 Technology wise Lamborghini always seems deliberately one step behind the mainstream supercar elite, for example sticking by robo-manuals while everyone else goes dual-clutch. But being one step behind does bring its advantages. Like being able to flick the ear of Ferrari, McLaren et al when they're not looking and just be a bit cheeky and annoying like that.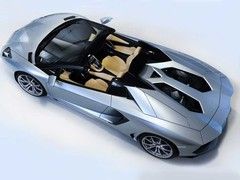 New 'Azzuro Thetis' paint inspired by Miura
So when it came to taking the roof off the Aventador Lamborghini hasn't gone for a trick folding hardtops like
Ferrari
and
McLaren
. Nope. If you want to enjoy your Aventador experience in the open air you have to remove clips. Manhandle two panels into the front luggage compartment. How 20th century! But, at least, a little more straightforward sounding than the nightmarish 3D puzzle that was the Murcielago's soft top.
This simple approach does bring advantages too. Like the fact the forged composite roof panels weigh just 6kg.
In a gloriously pretentious press release Lamborghini describes the hexagonal windows attached to the roof's central 'spinal column' as looking like 'hyper tech armour plates' (no, nor us) while the their actual purpose (besides boring stuff like draining and ventilation) is to permit 'the beauty of the V12 engine unit to be admired.' Shameless. But brilliant!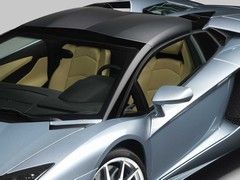 'Forged composite' panels store in boot
Who's to begrudge Lamborghini indulging in a bit of theatre though, especially with this, its most flamboyant model. If shy and retiring, or indeed cool sophistication, are your things it's safe to say this probably isn't the car for you. Go and enjoy your McLaren 12C Spider.
The rest of us can just point and grin at quite how over the top Lamborghini can go with what's still, in its own way, a regular production model.
So are there any other changes? Well, it's obviously not quite as extreme as the Aventador J concept shown a little while back. Nor does it cost 2.1m euros though, the asking price 300,000 euros plus taxes.
Other numbers? Well, Lamborghini is claiming the same 217mph top speed and a three seconds dead 0-62mph time, a tenth slower than the coupe. New forged 'Dione' wheels are 10kg lighter than before too. Other than that the spec is the same, the 700hp 6.5-litre V12 driving through Lamborghini's 'Independent Shift Rod' seven-speed automated manual. Oh, and it's got cylinder deactivation too to keep your conscience a little bit cleaner.
Like such things even begin to matter!