McLaren sells significantly more Spider versions of its 650S than it does coupes and Ferrari reckons its most hardcore Berlinettas like the Speciale still have credibility as
. And, let's face it, if you want to pose in your supercar you need one with a roof that comes down. Enough excuses, Lamborghini was always going to make a Spyder version of the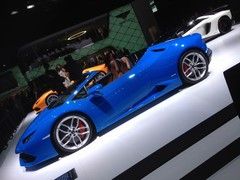 Need to know? Well, the important stuff like the howling normally-aspirated 5.2-litre engine with its dual fuel injection, 610hp and 8,700rpm redline, standard Lamborghini Doppia Frizione double-clutch auto and multi-mode 'Anima' switch are carried over from the coupe. The hated Dynamic Steering is still optional, thank goodness. See our
from the original launch of the Huracan for the full picture.
We know that V10 sounds pretty spectacular already, the Huracan and closely related R8 flying the flag for old-school normally aspirated supercar engines as the rest of the world goes turbo. And with the chance to put the roof down you can get even more up close and personal with it, which has to be a good thing. It's not just the engine that's a little old-school compared with the competition either - unlike the 650S and (we'll assume, given it's based on the 458) pending 488 Spider the Huracan doesn't use a folding 'targa' style hardtop and sticks with old fashioned cloth. It's available in three colours - black, brown or red - too! It lowers in just 17 seconds and you can do it at speeds up to 31mph. You can also independently raise or lower the rear screen roof up or down, respectively to act as a sound amplifier with the roof up or a wind deflector when it's down.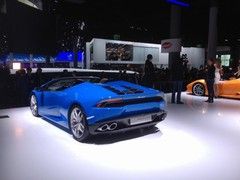 Lamborghini is keen to boast of all sorts of stats for the new Spider, with one notable exception. You can probably guess what that is too... Yes, while McLaren and Ferrari have managed to reduce the weight gain from going open top to just 40kg-50kg the Huracan Spyder has put on a whopping 120kg according to the seemingly like for like dry weights published on the respective spec sheets. Does it actually make much of a difference? In terms of performance the extra flab costs you two tenths to 62mph (a hardly sluggish 3.4 seconds) and three tenths to 125mph - now 10.2 seconds. Top speed is reduced from 203mph to 201mph. So no great sacrifice by the numbers; whether the dynamic behaviour is as close remains to be seen but Lamborghini is claiming a 40 per cent improvement in stiffness over the Gallardo.
UK pricing is to be confirmed but Lamborghini says the new Spyder will cost 186,450 euros, plus taxes, when it goes on sale in Europe next spring.