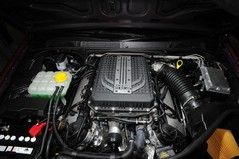 Ford's Australian FPV (Ford Performance Vehicles) division has revealed a new top-end version of its Falcon super-saloon, featuring a supercharged V8 developed by Brit engineering and motorsport specialists Prodrive.
Presumably to fend off accusations of 'going a bit girly' with its Mini WRC programme (and that car's 1.6-litre engine), Prodrive's Aussie arm has been flexing its muscle car, er, muscles, developing a new motor for the new range-topping Ford Falcon 'Boss 335'.
The so-called 'Miami' engine uses the new twin-cam V8 from the latest Ford Mustang as its base, while the added supercharger helps it to develop its 449bhp (335kw, hence the hot Falcon's name-number) and 420lb ft without the aid of an intercooler. Which leaves the intriguing potential for future upgrades using higher boost levels with an intercooler fitted...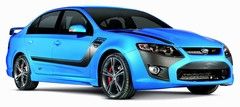 Even so, the latest FPV Falcon can still nail the standing quarter-mile time of less than 13 seconds and manage 0-62mph in under five seconds.
"The old 5.4-litre 'Boss' unit used by Ford Performance Vehicles (FPV) was a tough act to follow, but it had reached the limit of its emissions development and mechanical strength," explains Bryan Mears, MD of Prodrive's Asia Pacific division. "It took three years and AUS$36million but the result is a new benchmark for a high-performance V8."