This is Niki Lauda's infamous 1976 crash at the Nurburgring GP, as recreated by Ron Howard's crew on the forthcoming Hollywood F1 epic Rush.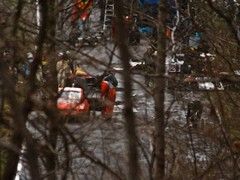 Filming has been taking place today
The movie is due to screen next year and is being billed as a biopic following the epic battle between two very different racers; the Austrian perfectionist Niki Lauda and British playboy James Hunt.
It's an amazing season to try to recreate. Howard's crew have come back to the Nurburgring Nordschleife after last September's visit to film some of the movie's most important scenes.
And Lauda's crash and subsequent rescue must rank as one of the most dramatic moments in the movie. The crew shot that scene today, on location at the now-named Lauda Links, with a mixture of real cars and burnable props.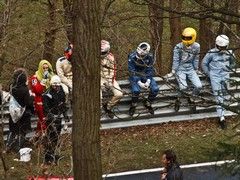 Actors line up for the scene
It's one of the most influential moments in motorsport history. What happened here in a few, fiery minutes changed racing forever.
Ferarri driver Lauda, despite being favourite for the win and the fastest in practice, was trying to push through a boycott of the event right up until the beginning of the race. But a driver's vote failed to bring the result he wanted.
After spending the week highlighting the notorious circuit's dangers and long emergency response times, Niki's car suffered a catastrophic failure on lap two of the race. He ploughed into the guardrail, then bounced back into the path of Brett Lunger's Surtees-Ford. Unlike Lunger he was trapped in the burning wreckage. Lunger, Guy Edwards, Harald Ertl and Arturo Merzario fought to pull the injured Lauda from the flames. Despite slipping into a coma and suffering permanently disfiguring burns, Lauda was back in action just six weeks later.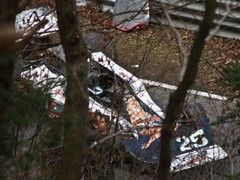 Authentic cars used for filming
Formula 1 never returned to the Nordschleife again, and the driver's safety council was, at last, taken seriously.
Filming for Rush has also been taking place here in the UK and PistonHeads will be bringing you the inside story from that in the near future, Ron Howard himself regularly tweeting from the set on @RealRonHoward.
---