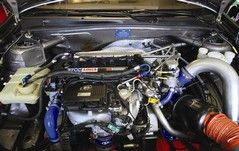 The senior management of Lotus Cars might give every impression that they are as mad as bats, but it seems that Lotus Engineering is still plugging quietly away, fiddling about (in a good way) with all things automotive.
Its latest gig is to make sure that the British Touring Car Championship's new generation of turbocharged engines have a roughly even baseline boost pressure for the 2012 season.
Lotus's job will be to conduct an independent engine flow-test programme of all the new 2.0-litre turbo engines built to NGTC spec and report their findings to the BTCC's Engine Technical Review Panel.
BTCC boss Alan Gow is keen to point out that the test is not intended to create absolute parity between the turbo engines, but merely to broadly level the playing field.
"The purpose of this programme is not to make every race engine perform in exactly the same way," he says. "It's only right that the best engineering, the best design, the best teams and, of course, the best drivers still see their efforts related to their on-track performances.
"The test programme is simply to reduce any wide performance variances resulting from significant differences in the fundamental port/valve designs of the original production engines. It will identify and quantify those that produce superior airflow through the cylinder head and those that don't, in order that their baseline turbo boost pressure is set accordingly."
The BTCC's statement also revealed that the championship won't rule out further tweaks to the rules to help keep the performances of the turbocharged and non-turbo S2000-spec cars on a roughly equal footing.