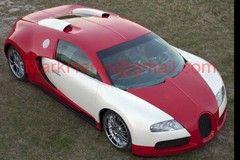 Despite what you might (briefly) think, what lies beneath this bodywork is not 987bhp, 16 cylinders or four-wheel drive.
Instead, horror of horrors, this Bugatti Veyron replica is actually a Mercury Cougar.
For those who can't remember the Cougar, we've provided you with a picture of one in original form (to the right - and our sincerest apologies to those who do remember it).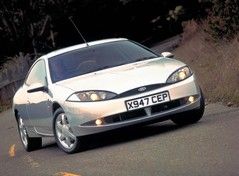 It was one of Ford's less successful coupe attempts (although, coming after the deeply lacklustre Probe, it seemed positively magnificent) and, although badged as a Ford in Blighty, it got Mercury branding in the US.
As one of the less appealing results of Ford's 'New Edge' design philosophy of the late 90s, the transformation from 'Cougar' into 'Cougatti' is arguably a visual success, but we guess that the bodywork runs up a bill that the chassis and drivetrain can't afford to settle.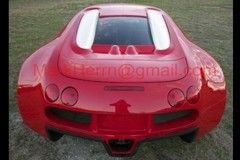 You see, underneath the swoops and curves lies a 2002 Cougar V6 auto, meaning front-wheel drive and a pretty woossy 168bhp. Hardly the stuff of 200mph dreams.
And the chap who was selling it on a certain US auction site (the item has now ended) wanted a starting bid of $89k (around £55k). Still, compared with the £700k or so it'll set you back to get hold of a genuine used Bugatti Veyron, you might think that's a bit of a steal. Until, we suppose, you actually have to drive it somewhere...