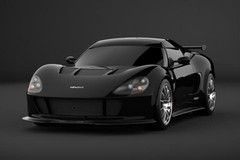 It might sound more like cough remedy than a German sports car maker, but Melkus is definitely into cars rather than pharmaceuticals and to prove the point it is bringing two new versions of its
RS2000 coupe (first seen at the Frankfurt show in 2009)
to the Top Marques show in Monaco this weekend.
The RS2000 GT and GTS both get a 2.0-litre turbocharged engine from a 'well-known German manufacturer' (if that doesn't mean Audi we'd be surprised) giving 296bhp in GT form and 345bhp in GTS form.
That's enough to propel the faster of the two to a top speed of 186mph and a 0-62mph sprint off 3.9secs (the GT does the same in 4.5secs.
Both the GT and GTS come with adjustable dampers and AP performance brakes. Meanwhile, Melkus makes substantial use of carbon-fibre for the front spoiler, rear wing, rear diffuser and side air intakes in order to help keep the kerb weight down to just 975kg.