After 78 pages of the current
could we now have a tyre to finally end the debate? Michelin reckons it does in the form of what it calls "a summer tyre with winter certification." It claims the CrossClimate has all the grip, braking performance, rolling resistance, noise levels and longevity of a summer tyre. But also works well in low temperatures and on snow. It already has the 'snowflake' certification that means those countries who force drivers by law to switch every winter have accepted it works.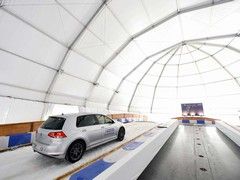 Up (artificial) hill, down dale, whatever the weather
You will now ask what we asked when shown the tyre at a recent event near the Geneva motor show - what's so amazing about this compared to an all-season tyre? Michelin executives got quite heated at this point. This is not an all-season tyre we were told. All-seasons might let you climb a snowy hill, they said, but they don't offer the dry braking and wet braking performance of a summer tyre.
They backed this up by letting us test the CrossClimate against a summer tyre and a Goodyear all-season tyre on a purpose-built course that included some dry braking, a wet roundabout and a snowy hill.
It was pretty difficult to replicate the dry braking accurately each time, but the CrossClimate as fitted to a new VW Golf TSI stopped us smartly on the dry and carried more speed on the roundabout than the all-season before washing out. And it got us up the snow hill whereas the summer tyre didn't. On a snowy mountain road fitted to a Peugeot 308 the grip was more than decent.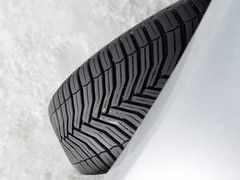 CrossClimate's distinctive tread pattern
The tech is a combination of new silica in the tyre compound and a cool-looking tread pattern (accepting it takes a level of geekery to find tread patterns cool) that interlocks sipes in a V down the middle. Apparently grip actually increases when it wears thanks a technology called Evergrip, which reveals new grooves in the rubber as the tyre gets worn away.
The tyre goes on sale in May, with prices to be confirmed. "Between a summer and winter tyre" is all Michelin would say. Given a regular 205/55/R16 Michelin Energy Saver Plus sells for around £75 (according to a search on PH's Tyregiant landing page) and Alpin winter equivalents are over £100 that'd put it around £90 per wheel. Launch sizes are between R15 and R17, with 18s coming next year.
Michelin admits this is a middle of the road tyre. So if you're Alps-bound every other winter weekend or are looking for a sports tyre with ultimate bite and feel, this ain't going cover your needs. For the UK-based family hack, however, this could offer just the right level of all-year rubber protection.
End of a long-running PH discussion? We'll let you decide!