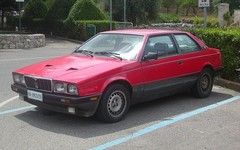 The Maserati Biturbo once shared bits...
Maserati's new sub-Quattroporte sized saloon will share its floorpan and drivetrains with the next generation Chrysler 300C.
According to a report from Autoblog Italia, the 'badge-engineering' project will provide the Fiat group with a new Maserati entry model that effectively replaces the Alfa Romeo 166 in the group's model hierarchy (as a bridge between Alfa and Maserati's current line-ups), as well as a new flagship Lancia. The cost being talked about is in the 55-100k Euros price range.
As a result of the new model's introduction in 2013, the revised Quattroporte due a year earlier in 2012 will apparently get a bit bigger and a bit more expensive.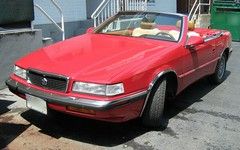 ...with this. The Chrysler TC.
The Italian media are describing the new Maserati/Chrysler project as a spiritual successor to the lack-lustre 1980s Biturbo, and its dodgy stable-mate the Chysler TC by Maserati - a connection which frankly doesn't bode well.
However, if the new small car can retain some of the glamour of the much-admired Quattoporte, Maserati could be on to a winner - even if its new baby arrives with a 400hp twin turbo diesel V6 as suggested by the original article.