The topic of circuit safety has been raised a few times now in Motorsport on Monday, most recently on the run up to Monza with the FIA's decision to build a car park on the
. Like it or not it didn't affect the race and, really, hardly detracted from the challenge the corner poses at all.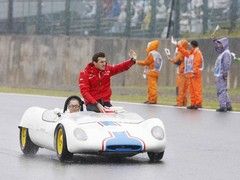 We have everything crossed for a full recovery
Last weekend safety reared its head again following Jules Bianchi's horrific crash at Suzuka. Designed in '62 By John Hugenholtz as a Honda test track, the facility is still firmly rooted there with minimal run-off and some very high-speed corners. I'm not particularly a fan of the modern Tilke-dromes with their masses of get-out-of-jail-free Tarmac, but if this style of circuit lessens the risk of an impact with something - anything - then I say pave everything over. If it stops just one person from being seriously injured or worse then in my opinion it is worth it. I can speak from personal experience, as I'm sure two- and four-wheeled motorsport enthusiasts everywhere can.
This is not a knee-jerk reaction, far from it, but moving barriers back and giving a car time to slow down has to be advantageous in an accident.
I'm not saying anything should be done just yet, and in my opinion a full investigation won't yield a conclusive outcome either; what would the alternative have been? To leave a stricken car in a dangerous area and not attempt to recover it under yellows? No. It just so happens that circumstances, like they do on these rare occasions, were not in Bianchi's favour.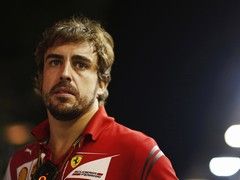 If Alonso is on his way to McLaren...
That doesn't make it alright, but as the signs that litter circuits across the globe read, motorsport can be dangerous. We enter into it as competitors and spectators at our own risk.
At the time of writing, Bianchi had undergone surgery for what a CT scan showed to be a severe head injury. All that we can hope now is that the young Ferrari-affiliated Frenchman pulls through.
Silly season
If you hold the belief that Formula 1 drivers can be petulant and petty, then you're probably right. But to see the whole grid come together following Bianchi's accident was quite touching.
These are guys that get paid upwards of 20 million euros a year for doing what they love, but when one of them (and even to an outsider it seems like a tight-knit group when something like this happens) is in a bad way, it affects the whole paddock.
For all the squabbling, tit-for-tat politics and blow trading at the front of the field this year it was heart warming to see genuine concern and compassion for someone who is first a friend and colleague, a rival on track second. So F1 drivers are real people. Who knew.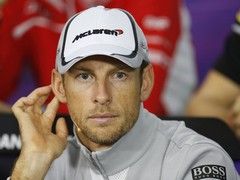 ... does that mean Button is on his way out?
On the subject of how much they get paid, last weekend at Suzuka marked the start of some intra-grid movement. The big news was that the grumpy one at Red Bull will leave to face a new challenge at Ferrari next year - and he thinks he's had it tough in 2014? - while the happy one at Red Bull will be promoted to lead driver, F1 toddler Daniil Kvyat coming in alongside him. Ricciardo will probably want a pay rise from the 750,000 euro
Remember those little 9x9 puzzles as a kid, the ones with one free square in them that you needed to slide the tiles around? That's exactly what the F1 driver market is like - you always need one free square (or seat) for the movement to begin.
Now Vettel has vacated and Kvyat come in, it leaves a space at Toro Rosso. That means the Italian squad could have a 2015 driver line-up where neither owns a proper driving licence and with an average age of about 12.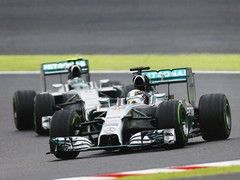 Crash marred a great race for Hamilton
The other interesting analysis is at Ferrari. With Vettel arriving, it must mean Alonso is off, more than likely to McLaren, although nothing's confirmed. There's also a rumour circulating that, disappointed with his pace this year, Ferrari may pay Raikkonen off to make way for someone else. Again.
Could that someone have been Ferrari young driver Jules Bianchi? Let's hope we get to find out and Bianchi makes a full recovery.
If Alonso is off to McLaren, it means someone will be getting the boot at Woking. Despite a few penalties for some strong moves this year, given some half decent results, good drives and plenty of potential shown, it's unlikely Kevin Magnussen will be cruising around the lake and out of the gates to the McLaren Technology Centre for the last time, which means Jenson's time might be up.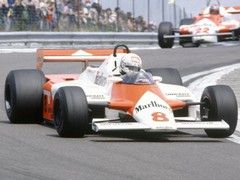 The weekend was marred by a terrible accident, but that doesn't mean we can't also celebrate some brilliant driving. Namely Hamilton going round the outside of his teammate into the sphincter-tighteningly fast turn one in conditions that would normally require a keel.
That represents bottle and supreme skill, and a man that is determined to win the championship this year. It's another mental blow for Rosberg, being beaten from pole and having a move like that stuck on him. Now the momentum is firmly with Lewis, who has a 10-point lead in the championship with three races to go. Still, double points in Abu Dhabi means it could be a shootout in the desert.
Another point of note from the weekend was the sad news that ex-F1 driver Andrea de Cesaris was killed in a motorcycle accident aged 55. Our thoughts are with his and Bianchi's family and friends.