Honda looks set to push the concept of the sporty Hybrid still further by putting a Mugen-tweaked version of its CR-Z hybrid coupe into production - and it'll be on sale in the UK by February next year.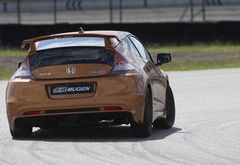 Most intriguingly of all (especially for those wincing at the
) is the news that the Mugen CR-Z will be given a sticker price of 'less than £24k' when it hits showrooms.
As with the development version of the Mugen CR-Z that we drove at Rockingham in the summer, the production version of the fast CR-Z will get a 158lb ft, 200hp version of the 1.5-litre four-pot used in the 'normal' car, albeit with a supercharger.
Performance should be pretty spritely, then, and Honda reckons on a 0-62mph sprint of 6.1secs for the car, which should give it a healthy (straight line) performance edge over the identically horsepowered Toyota GT 86.
The one thing we don't know is just how many Mugen CR-Zs will be made...