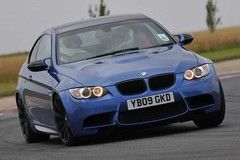 M3 will keep its name. Probably
The next generation of BMW 3-series coupes and convertibles could be re-badged as 4-series models rather than 3-series.
The logic behind this is, apparently, that some elements in the Munich management (that's presumably the more OCD parts) are keen that odd numbers should represent the more 'everyday' saloons and estates (and 'GT' models), while even numbers get assigned to sportier models.
That already applies with the X5 and X6 SUVs, and with the 5-series and 6-series. It will even work out well lower down, with the future 1-series expected to go for front-wheel drive, while the '2-series' coupe will retain driven wheels at the 'proper' end.
But what, you may well ask, is going to happen to the M3? Will we get an M3 saloon and an M4 coupe? Apparently not, says US mag Car And Driver, who broke the story. So much for consistency, then...