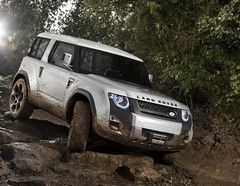 The Land Rover DC 100 concept...
Land Rover Defender enthusiasts may want to look away now, for this
how the future's going to look when the existing 'iconic' Defender is put out to grass and replaced in 2015.
Well, to quote Land Rover design director Gerry McGovern, this new Land Rover DC100 (scheduled for introduction at the Frankfurt motor show later this month) "isn't a production-ready concept but the beginning of a four year journey to design a relevant Defender for the 21st century".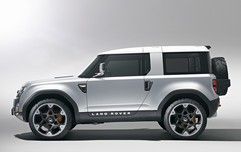 ...aka the next Defender. Possibly!
Which roughly translated means, should everyone hate it, Gerry and the firm have a handy get-out clause. Funnily enough, here at PH Towers, we're split down the middle.
Half of our crew think the DC100 is too much a variation on the shopping-mall SUV theme. Its plasticky lines are toy-like, affected, and... well, can you imagine it with shotgun cartridges rolling around the footwells, a load of fence posts in the back, reeking of wet dogs, and that last pair of bagged rabbits giving you flea bites round the ankles when you drive it?
The other half think that it's 'cool' and 'stylish' and exactly the car they wanted the next Defender to be - and therein lies the dilemma facing Land Rover and Mr McGovern.
There's only one way to sort this out - cast your vote now on the infamous PH O'Meter. We know the Land Rover product development team will be watching...
Meanwhile, here's some random 'background' imagery courtesy (mainly) of the Land Rover names registry. Now that's what a proper Landie should... (Oh, stop it! Ed.)