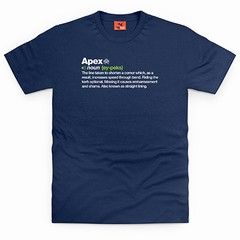 The PistonHeads team are feeling pretty good today, it's Friday, we've filled another
Sunday Service
and we are pleased to unveil five new PistonHeads 'definition' shirts too.
As PHers we understand the world better than most, we know the most about cars, we know how to drive well and we all know how to get the most from our weekend (ie, hooning not shopping).
But some folk need education, and that's where these shirts come in. Not only are they superb PH-inspired shirts in their own right, they also do a great job of explaining why we do what we do to the uninitiated.
The five new designs cover V8, Apex, B-Road, OversteerandLepton joining our existing range of Shed, PHer, Man-Maths, hoon, tunnel, barge and bork.
All shirts are available in a variety of colours with sizes ranging from small to extra-large (ladies cut also available), priced at £17.99.
To order click the links above, or visit the shop home page here to view our full range which includes hooded tops, iPhone cases, mugs and stickers.