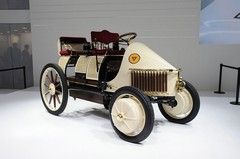 Given how the 918 Spyder concept stole the show at Geneva last year, and the recent unveiling of the RSR racing version, we've been wondering what Porsche had up its sleeve for this year. The answer is the recreation of a 111-year old hybrid pioneer.
So no, you're not looking at the Porsche design department's idea for a move away from a 911-influenced aesthetic, rather the culmination of a four-year build resurrecting Professor Ferdinand Porsche's 1900 'Semper Vivus' Lohner-Porsche.
Seeing as the Panamera Hybrid-S is the other Porsche debutante today, the parallels being drawn here are clunkily obvious. The implication is that the combination of petrol and electric power is deep within the Porsche DNA, even if nobody ever remembered.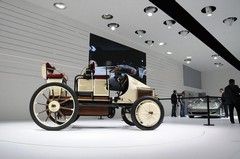 Porsche began experimenting with these new fangled things called cars in 1896, but the Lohner-Porsche of 1900 was his first proper machine. Drive came from steered wheel hub motors, and the car made its debut at the 1900 Paris World Exhibition.
The Semper Vivus combined two 2.5HP generators with two 3.5HP petrol DeDion Bouton engines forming a single charging unit. Electricity generated by the dynamos flowed straight to the hub-mounted motors, then to the 44-cell battery.
A Porsche spokesperson says there are no plans to put the Semper Vivus into production. Meanwhile we can only imagine the joy Porsche's fuel-cell/nuclear reactor/amoeba-drive specialists are going to have in 2111 when they get to recreate the 911 GT3 for a publicity stunt...