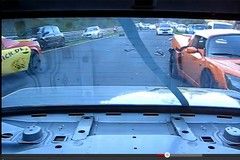 We knew that
last weekend's eight-car crash on the Nurburgring
was pretty bad, but
this video
makes you realise just how much worse it could have been.
It's been taken by a chap who arrived at the scene after the first crash, but just before the 'Ring taxi arrives on the scene.
What with crashed cars and their bits strewn across the road, drivers taking to the grass to avoid them, and others even stopping on track, it's quite an astonishing scene. And quite amazing that the result wasn't actually any worse...