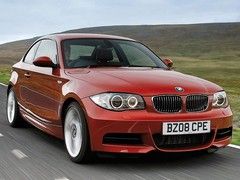 The boss of BMW's M division, Dr Kay Segler, has officially confirmed that an M version of the 1-series will arrive in 2011.
Segler revealed the news to German car mag Auto News on Tuesday (read the interview on the Auto news website here if your German's good, or bung it through Google Translate and see if you can make sense of it).
The new car will be based on the 1-series coupe, but won't be called the M1 - that remains reserved for the original mid-engined supercar. More likely is a nomenclature along the lines of 135i M, especially since the new baby M-car will use a more powerful version of the 135i's 302bhp turbocharged straight six for its motive power.
Segler also confirmed that the new M5 would hit showrooms in 2011 and that, as has been widely anticipated, the V10 from the E60 M5 will be dropped in favour of the twin-turbo V8 from the X5 M and X6 M.
Lightweight tricks will also feature on the new M5, including a carbon roof similar to the one on the current M3.