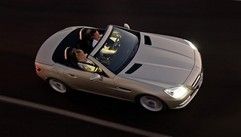 To help us celebrate PH Open Season, Mercedes-Benz has kindly agreed reveal its all-new SLK roadster today
*
, complete with its very own 'world first'. Say hello to the Magic Sky Control roof (more mushroom tea, vicar?) which switches from light to dark at the touch of a button.
We now know the car's going to be launched with a pair of 4-cylinder petrol engines making 184hp and 204hp respectively, and a 3.5-litre V6 offering 306hp. The SLK 350 will do 0-62mph in 5.6secs but power junkies will doubtless wait a bit longer for the V8 version. Although it's not been announced yet, we're expecting a new SLK 55 packing a normally-aspirated version of the latest AMG 5.5 unit offering in the region of 420hp. (There's also a diesel option somewhere on the horizon, a twin-turbo 2.1-litre with 204hp that presumably offers unlimited miles to the gallon.)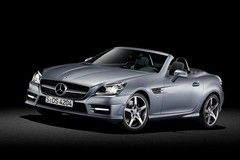 Mercedes says the SLK will arrive with three suspension options. A conventional steel set-up is standard, which can be upgraded to either a sports suspension with firmer springs and dampers, or to the Dynamic Handling package which has an electronically controlled fully automatic damping system. The Dynamic Handling pack will also include Direct-Steer (active assistance) and Torque-Vectoring brakes.
The most obvious changes are visual, with the new SLK boasting a thoroughly new look inside-and-out that's designed to reflect some of the characteristics of the SLS Gullwing, and also the original 1950s SL.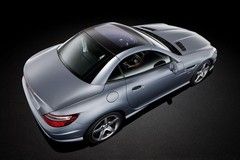 To that end you get a new, upright radiator grille with the M-B star set prominently within and clearly defined headlamps. (It says here...) The car also has 'timelessly classic' proportions when viewed from the side, and design touches like the chrome fin on the wing vents are a nod to those old '50s machine.
The inside looks pretty nice too, we reckon, and we'd take a punt on it being one of the most refined convertibles in its class. As well having Magic Sky to play with when the roof's up (assuming you haven't skimped with the standard steel vario-roof), the open-air experience will be soothed by Airscarf which blows warm air around your neck, and a new system of turbulence control called Airguide. 'It consists of pivoting transparent plastic layers which are attached to the reverse of the roll-over bars. The driver or passenger can swing them to the centre of the vehicle in a flash, thus taming turbulent air flow,' says M-B. However we can't spot it in any of the pics released today. (Maybe because they're transparent..? Ed.)
Official UK launch date for the SLK will be June, and prices and specs remain to be confirmed.
*That's not the real reason.