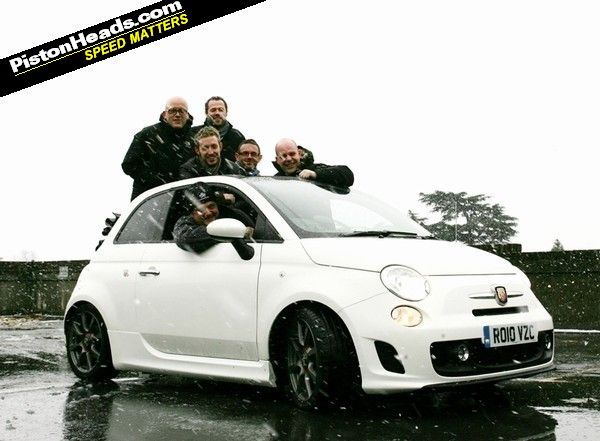 You can't guarantee much about a British winter, but there is one thing you can usually rely on. The occasional sighting of that special breed of sporting gentleman (and yes, lady) who refuse to let the threat of frostbitten extremities spoil their enthusiasm for a bit of open-air motoring.
You see, some people live for the chance to frolic topless in the snow, and that includes us. But while PH techie Mr Will seems set on alarming visitors with his naked torso in the office car park, this year the rest of us are going to do it differently. To that end we're declaring 'Open Season' here at PH, and for the next couple of months you'll find us totally committed to supporting that great British tradition of convertible winter motoring.
So what does 'Open Season' mean exactly? Well, that's a very good question, because in the equally grand tradition of PH there'll be a bit of 'making it up as we go along'.
What we can tell you for now, is that we're rounding up all the cabriolets we can get our hands on to drive over the next two months, and we're going to drive them all rooflessly and with a smile on our faces - or else. There's a caveat of course, because faced by sufficient threat of damage by precipitation, or indeed threat of separation and/or significant loss of privileges from our most important passengers, it would be foolish to battle against the odds. But we think you get the picture.
And talking of pictures, that's where you come in. We want to feel your love for topless winter motoring too, so we hope you'll be posting pictures and details of your own madcap exploits in the PH forum thread started by this article. And why would you do that? Because there might be prizes...
To set the Open Season ball rolling, we've blagged our first pair of convertibles already, so look out for more words of wisdom (or foolishness) soon on that sporty staple the Porsche Boxster and Ariel's rather more extremist Atom. (Brrr!) Not to mention the funky Fiat Abarth 500C into which the PH team huddled for shared bodily warmth during a snowstorm the other day. (An experience which has already tested the limit of human endurance, I can tell you...)
If we were setting out to prove anything, it would be that the British weather can throw nothing at us that a bit of the old Dunkirk spirit can't overcome. But we're not, we're just up for it. Tally-ho!