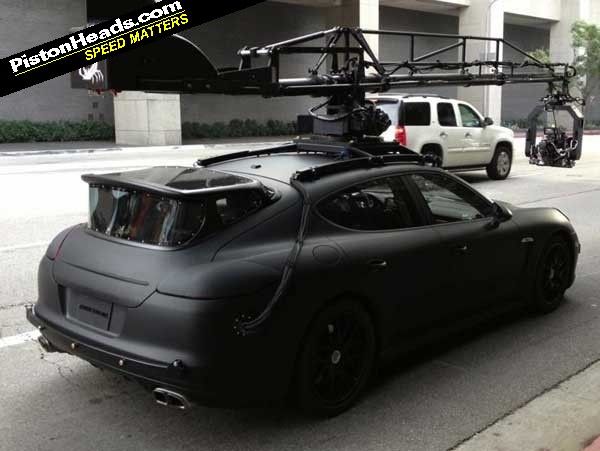 Harris has been
won over by the Panamera
and, fuelled from the black pump or not, mightily impressed with its talents. It'll do more than just hammer up and down the M4 though, as demonstrated by this spot
over on Jalopnik
for a super evil Panamera camera car spied on the streets of LA.
Apparently run by a company known as Pursuit Systems , the Panamera has been wrapped in matt black to avoid unintentional reflected cameos and includes a custom rear hatch and, as Jalopnik puts it, 'tailgunner' camera window. Oh, and a sodding great boom on the roof too! Check out some of the other vehicles in the Pursuit Systems fleet too - very cool.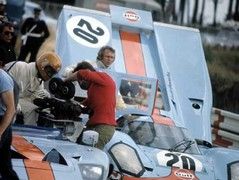 GT40 camera car sold recently [NY Daily News]
And an update on the slightly more precarious set-up used by John Frankenheimer for the car chases in Ronin, which basically involved a hapless camera operator sitting on a rig bolted to the front of a Mercedes E500, the V8 Merc chosen for its speed and stability much like the 450SEL 6.9 used for the filming of
C'etait un Rendezvous
. And because Frankenheimer was a bit of a fast Merc fan, hooning round LA in a supercharged SEC back in the day. He had previous too, bolting cameras to contemporary F1 cars for the filming of Grand Prix. GT40s were also used for both
Grand Prix
and
Le Mans
. Which is also pretty cool.
Looks like things have got a lot more sophisticated these days though. With or without the boom the matt black Panamera thing works for us too.
[Sources: Jalopnik, NY Daily News]