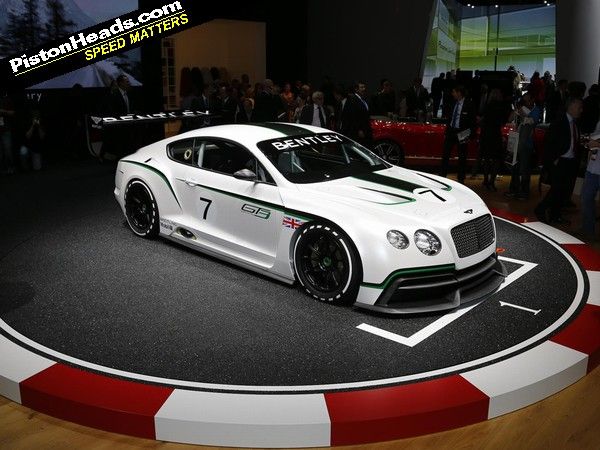 Bentley is going back into motorsport AND going back to its road car derived competition car roots with a racing version of the mighty Continental GT Speed.
The forthcoming GT Speed is Bentley's fastest road car ever, and the Continental GT3 concept racer is by a country mile its most extreme iteration. For something that's never going to make the highway, this beast has created a huge stir here at Paris. The unanimous verdict is that its arrival is a Very Good Thing indeed.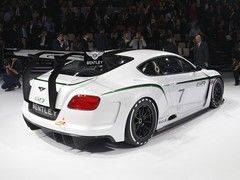 Options include a carbon fibre cravat
The scale of it is remarkable, from the complex aero-led front end to that humungous rear wing. Seriously, the scale of the rear spoiler is unbelievable – it's not unlike early F1 wings of the 1960s for towering intent. The Continental GT3 also has aero-profiled side body panels, the expected diffusers and complex aero devices, and even glorious titanium-tipped side-exit exhausts.
Inside, there's a fully-equipped race car cockpit with HANS-ready seats, a fully-stocked dashboard and a plumbed-in side refueller. It genuinely does look race-ready (and already equipped with the 'state of the art motorsport hardware' Bentley's telling us it has).
It's got to have gone through a serious weight-saving regime, mind, given how heavy the road car is. Bentley's tight-lipped on this, but there's a telling detail that shows it's thought about everything: the traditional chrome grille badge is now a sticker graphic…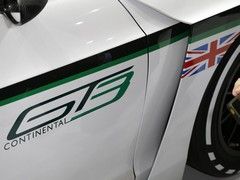 GT racing suddenly got a lot more interesting
Bentley tells us it'll be rear-wheel drive, but hasn't revealed which engine it'll use. Logic would suggest the new V8 turbo, particularly as all the car's rivals (Aston Martin DBRS9, Audi R8 LM, Ferrari 458 Italia GT3, Mercedes SLS AMG GT3) pack eight-cylinder motors. With due equalisation though, could a W12 be a reality – particularly as Bentley chiefs told us at the V8's launch that the weight difference isn't as great as you'd think?
What's it all about, though? Well, Bentley's last motorsport venture was the 2003 Le Mans 24 Hour race. It won this with the Speed 8, of course, but hasn't done anything since. A return is long overdue. Now it's here, with the car set to compete in all types of GT3 racing up to and including 24-hour marathons. Basically, it IS going back to Le Mans, probably in 2014.
Before that, the GT3 will make its racing debut in the latter half of 2013, following a big testing programme. Judging by the press release shots, it's already undergoing shakedown runs at Anglesey.
Bentley Chairman and CEO Dr Wolfgang Schreiber was bullish at the press conference. "The Continental GT3 is set to show the world what the Continental GT is capable of in its most extreme form, and establishes a solid foundation for Bentley's long-term motorsport plans."
Question is, when will we get the Continental GT3 road car? Watch this space, hinted a spokesperson…