Here's the long-awaited griff on Jaguar's F-Type - and with prices starting at £58,500, we reckon it's got all it needs to give the opposition a jolly good kicking.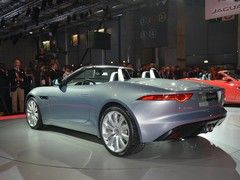 Proper sports car, down to the noise and all
As you'd expect from Jaguar, the two-seater, rear-wheel drive F-Type is all about the driving experience. That philosophy is reflected in both the cabin and the chassis, which Jaguar reckons is up to 30 per cent stiffer in key areas compared with any previous Jaguar.
The car comes in three versions, all petrol-powered and comprising two V6s and one V8. As in the XJ and XF, all three are supercharged. That means 340hp from the base 3.0-litre F-Type, 380hp-339lb/ft from the 3.0-litre F-Type S, and 495hp-461lb/ft from the 5.0-litre F-Type V8 S.
In the F-Type's lightweight aluminium body, that translates to 0-60 times of 5.1, 4.8 and 4.2 seconds respectively, and electronically-limited top speeds of 161mph, 171mph and 186mph. Just as impressive are the in-gear acceleration times. Driving through the close-ratio eight-speed 'Quickshift' transmission, the 50-75mph interval is covered in just 3.3 seconds - and that's in the 340hp model. The 380hp trims 0.2 seconds off that, while the V8 smashes it down to 2.5 seconds.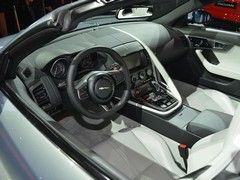 Everything's fast, steering included
The steering rack is described as "quick", and limited-slip diffs are standard on both the S versions (mechanical in the V6, electronic in the V8). Aluminium features strongly, and not just in the body: double-wishbone suspension front and rear is made entirely of the stuff. An optional Configurable Dynamics programme on the S models allows the driver to tailor a number of dynamic features, including an Active Exhaust system that uses bypass valves in the rear section to give the aural benefits of a 'straight-through' system when pressing on - or all the time, if you select Dynamic Mode via the Jaguar Drive controller. An Intake Feedback System overlays intake noise onto the scream of the supercharger.
If PHers had been invited to help design this car, it's unlikely they would have changed much. It's got "winner" stamped all over it.
"Fundamentally, a great sports car is one you'll look forward to driving because it's fun, and the F-Type definitely delivers on that score," says Jaguar's Chief Engineer (Vehicle Integrity) Mike Cross. "We've worked hard to make sure that responses to steering, throttle and brakes are absolutely immediate, a task made far easier by the rigid aluminium structure at the car's base.
"It's precise and exciting, a car that you'll want to drive for the sake of driving alone - and it sounds fantastic." It certainly does, and that's on paper!