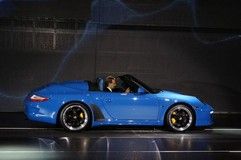 Because 19 variants of the 911 weren't enough, Porsche's 20th has been unveiled here at Paris.
Mining the depths of their heritage (Shouldn't that be reliving the highlights? Ed), Porsche has decided to look back to the 1989 speedster. They've even nicked the 'double-bubble' rear end.
What sets the Speedster apart from a regular 911 Cabriolet is a more steeply raked, 60mm lower windscreen, an exclusive 'Pure Blue' paintjob (with interior fittings to match) and a £64,000 premium over a Carrera 4 Cabriolet. Ouch.
So, £114,100 price tag aside, what else makes it worth having? Well, Porsche is playing the exclusivity card with this one. Only 356 (see what they did there?) will ever be made, so if you want one you'll have to get in fairly quickly.
Under the bonnet/bootlid is the same 402bhp 3.8-litre flat six you'll find in the freshly announced GTS. It will, they point out, sip fuel at 27.4mpg - the same as a Carrera S - although why that's really relevant we're not entirely sure.
You'll swap cogs with the 7-speed Porsche Doppelkupplungsgetriebe (PDK) auto 'box, which is a generous inclusion on the 'standard' spec list. You'll also get a limited slip diff, carbon ceramic brakes and Porsche Active Suspension Management entirely gratis.