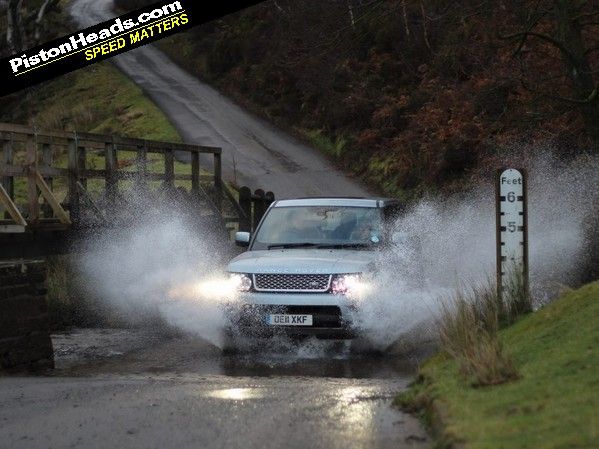 Fear not, this isn't a sudden change of editorial direction and the transformation of PH into some sort of off-road fansite. But with all these Unimogs - real and Lego - and the fact I'm in a Range Rover Sport at the moment has meant my mindset has gone a bit more green wellies than Sparco race booties.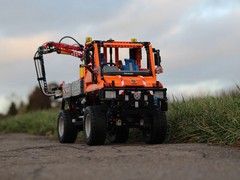 It took a while but the Unimog is now done
It's been great to hear I'm not the only one whose Christmas has been dominated by a
Lego Unimog
- keep the stories coming in. Mine is now complete, bar the winch. I did have some grand plans but - and it seems I'm not alone here - the amount of time these things take up hasn't gone unnoticed.
The Unimog wasn't the only off-road Merc commercial vehicle I got to drive the other week either, the Zetros truck Mercedes is introducing to the UK market also available for test drives. And, frankly, the Zetros makes even the Unimog look a bit girly. I liked the fact it had a 'proper' gearbox, even if it was so slow to operate that most times I went to change gear I actually came to a standstill before releasing the clutch again. Hearing Bedfordshire squirm and squelch beneath its huge tyres was amusing too.
Almost as amusing as the not at all posed photo of me with said Zetros.
Perhaps inspired by all this mud I've been having fun in the Range Rover Sport too. Now, it's conspicuous that in this particular corner of Yorkshire this isn't the preferred product from the Land Rover product portfolio. You can't move for Sports where I live in Hertfordshire but round here it does stand out rather. So I felt honour bound to get an authentic looking layer of grime on it and took, ah, a bit of a short cut across the moors.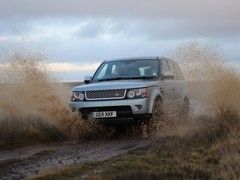 Layer of mud required, and found
Arriving at one trail we met a gaggle of proper camo-clad off-roaders emerging from the woods, dripping with fresh mud and looking pretty pleased with themselves. As I remembered it this run was pretty tame, the fact they all had Unimog-spec tyres and ride height perhaps suggesting my WAG's special might be out of its depth. I got a third of the way down it and then had a sudden, and rare, moment of good sense. The ruts were only getting bigger and, belatedly, it occurred to me those guys might have had their monster truck tyres on for a reason. I hate giving up but reasoning we might be about to breach the point of no return I turned the Sport round and managed to beat a slightly tense retreat.
That it managed this even on street rubber says a lot. But I did have a pretty good incentive, that being picturing the warmth of the reception I'd have got knocking on the door of one of the moors farms and asking if they could tow my Range Rover Sport out...
Dan
| | |
| --- | --- |
| Thankfully it got back up this too... | Well, the truck looks convincingly tough |