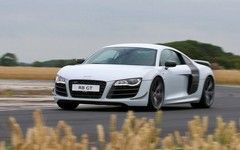 We wrote about the
opening of Blyton Park back in May
and, with the track now open for business and having hosted its first round of track days, we thought it time to have a go ourselves, courtesy of Audi and the launch for the R8 GT. So, what's it like?
Well, the aerial photos will probably have brought to mind a Bedford Autodrome-esque combination of wide concrete runways overlayed with a tarmac 'line' to create suitable wiggles with plenty of run-off. And that's more or less what it's like at the wheel; the first impression is that it's quite a narrow track.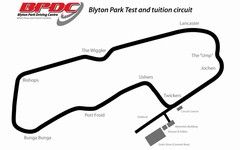 That's fine - it's a track day venue, not a racing circuit and one that's been designed to be fun in a road car. It's been MSA-certified for sprints, too, complementing Blyton's existing facilities for grass track and rallycross events. And while it's not - yet - in the Bedford league of slick presentation, it's a huge step up from weaving around cones on a wide expanse of old runway.
There are no kerbs to speak of (other than at the chicane on the back straight) so there is little to punish you if you go off line, and there's a good flow to the 1.6-mile track. Turn one - Jochen - is a fast entry with little in the way of camber and unforgiving of over-ambitious entry speeds as a result. It doubles back on itself for 'The Ump' and then turns into the long, opening Lancaster, named after the bombers based here during the war.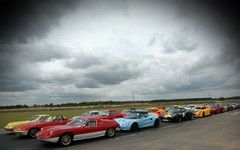 It's a big stop for The Wiggler chicane and then a short squirt to Bishops and another quick run to the long, double-apexed Bunga Bunga (
that's not the real corner name is it? - Ed
). Port Froid is a committed right/left before the slower right/left Ushers/Twickers complex at the track entry point. The surface is generally pretty smooth and there's not much in the way of elevation change (it is Lincolnshire, after all) but there's enough to challenge any car and driver combination.
We did film a lap aboard the R8 GT, but thought you'd be more interested in an on-board with the rather more skilled Marino 'brother of Dario' Franchitti in the R8 LMS GT3. Though even Franchitti got caught out, two interweaving black lines and a long R8-shaped corridor disappearing into the corn at Port Froid attesting to the fact Blyton can challenge pros as well as have-a-go-heroes...