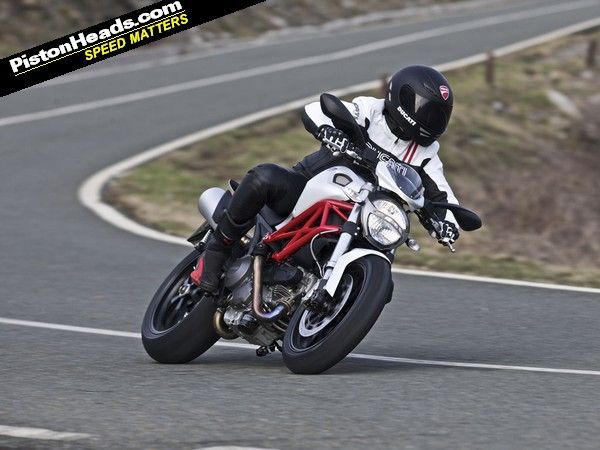 There are rumblings on Biker Banter about Bikers Friend, a free app claimed to provide an effortless way to document a motorcycle road traffic accident from your mobile device. So far, so straightforward.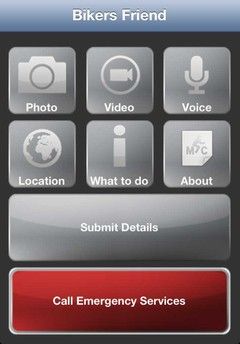 App wraps up all you'd need in case of a shunt
Created by an 'innovative media company' the app is also effectively a fast track way of putting you in touch with a 'no win, no fee' solicitor. The app gives you the ability to photograph, video, record and also pinpoint your location on a map or call the emergency services. All features that a normal iPhone or Android phone can do - but the app combines all these on one homepage. So, should you have an accident, you can collect all your own evidence.
This isn't a bad thing, and the list of 'what to do' instructions, although fairly obvious, is pretty good as well, up until you reach number seven. This instruction says 'Contact Motorcycle Compensation'. When you fill your accident details in and agree for them to be sent they are fired towards the company Motorcycle Compensation, who will then pass them to a 'no win, no fee' solicitor who will call you back and, according to the app, 'allow the user to view instantly what they could be awarded in damages from the fault party.'
"I've been a marketer of legal services in the UK for over 20 years as well as an avid motorcyclist," says Colin Mahoney, creator of the app. "I was always being asked to look after bikers' injuries so I launched motorcyclecompensation.com. Very quickly we realised that any injuries over £5,000, the insurers automatically deny liability. What I decided to do was provide the insurer with hard evidence as to exactly what happened, so we created the app."
So what's in it for his firm?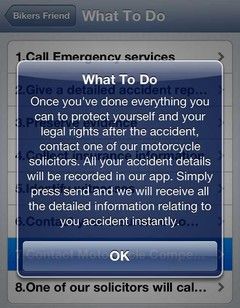 Hit OK and expect a call in short order
"We don't, under any circumstances, get paid by any of our solicitors for referring business over to them," he says. "We are a marketing company who markets on behalf of a collective of solicitors. We do not make money from the clients, we do not put a client with the solicitor who pays us the highest amount of money and we have no referral fee. We work with 10 solicitors who contribute a marketing contribution to me and in return I give them access to my database of clients who have had incidents."
Why is this? As of April referral fees are no longer allowed to be paid by solicitors to people putting them in touch with accident victims, hence the distinction. But the fact there is a 'compensation calculator' on the app that claims within an hour you can learn how much you could be awarded speaks volumes.
We brought this point up with Mahoney who said, "Well, why would you call us then?" Fair enough, and if you're looking for financial recompense from an accident this is a very quick way of getting in contact with people who can help you do it. Whether this is something to be encouraged is your call.