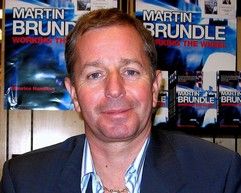 Brundle. Not Yonah
Yonah, our resident man-on-two-wheels, managed to catch up with
the
face of F1 commentary, Martin Brundle, the other day for a few words. Turns out that the Beeb's newly installed lead F1 commentator is a bit of a bike nut, so rather than chat about boring old F1 we've quizzed him with questions of a more two-wheeled variety... Over to Yonah and Mr Brundle...
What was your first bike?
A Garelli 50 in 1975. The exhaust used to get glued up the with unburnt two-stroke oil so I spent most of my time cleaning it out. Rode it without the exhaust once and it went like a rocket. Not a proper bike, but it got me about.
And the first proper bike you rode?
The first was an RC30 in California and the second was Randy Mamola's 500cc Yamaha race bike at Barcelona. I hadn't got a clue what I was doing. Couldn't get it to go around a corner because the back tyre was so fat. Worked it out eventually though.
Brundle's first bike was a 50cc Garelli
Silliest crash?
Chasing after Noel Edmonds for an autograph on a monkey bike at Brands Hatch and falling off after colliding with another monkey bike coming in the opposite direction.
Does a superbike feel as quick as an F1 car?
Sometimes quicker. An F1 car has so much drag that once you really get going the acceleration feels disappointing. You don't get the sensation that you do on a really fast bike that the acceleration is never-ending.
Best biking moment
It's either my regular anti-clockwise lap of Norfolk that I sometimes do early on a Sunday or the ride back from the French GP at Magny Cours to Epernay. Not classic roads, just quiet, challenging and fast.
Was Schumacher crazy to race superbikes?
Since I told him at the time that he was, I'd have to answer yes.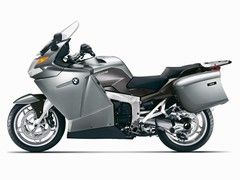 K1200GT: Brundle's current ride
What bike do you own?
A BMW K1200GT. You can wind it up to 130mph and go for 200 miles without needing to stop for fuel.
And your dream bike is?
No one makes it. I quite fancy a go on a Ducati Multistrada but what I really want is a super sports tourer. Something fast, but light and with a low centre of gravity.
Brundle pic: Greenmashup