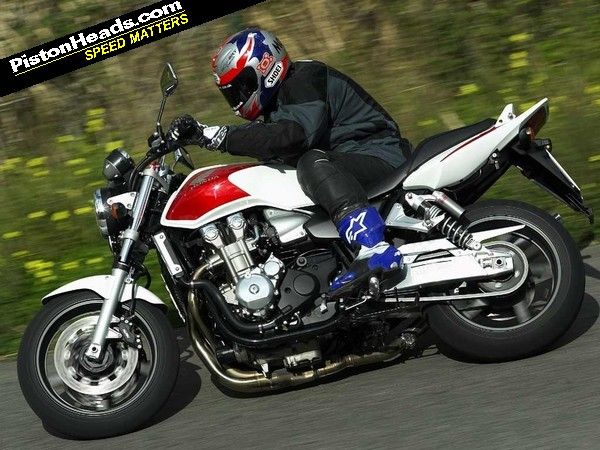 Well it's happened - at the weekend the new bike licencing laws came into force, bringing the UK into line with the rest of Europe. While this is all very well and good, the main issue seems to be that no one can actually make head nor tail of them! PH2, with a little help from the Motorcycle Industry Association (MCIA), will now attempt to explain just what the hell they mean...
Age 16
OK, you are a young spunker and want to ride a bike. Great stuff. After getting your provisional licence from the DVLA you need to do your Compulsory Basic Training (CBT) and then you can charge around the UK's roads on a 50cc moped restricted to 28mph. You can't take pillions and need L-plates but at least you can escape the home. Should you wish you can progress to take the two-part practical test, but you will still be restricted to 50cc and 28mph although you can take a pillion and dump the L-plates.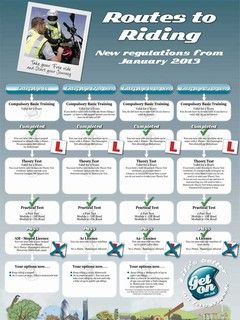 So that's nice and clear then...
Age 17 or over
Here is where it starts to get confusing. Previously at the age of 17 you could take you CBT, hazard perception and two-part practical then ride a bike restricted to 33hp for two years or until you were 21 years old, at which point you could ride anything. This is no longer the case.
Pass the CBT at the age of 17 and you can now ride a 125cc bike on L-plates with no pillion. Take your theory test and two-part practical and on an A1 licence you can now ride a 125cc bike with no L-plates. That's it, no 33hp bikes until you are 19 years old.
Age 19 or over
Unless you have an A1 licence you need the CBT, theory and two-part practical as before. Do this and you can ride any bike of up to 47.5hp without L-plates and carry passengers - this is the A2 licence. If you have an A1 licence you can take the practical test and upgrade to an A2 licence but only if you are 19 or over. After two years, or on reaching 24 years old, you can take a Full Category A test and ride whatever you like. Previously this extra restriction didn't exist and you could have ridden anything you liked after taking the practical test at 17 and doing your two years probation on a 33hp bike.
Age 24 or over: Direct access
As before, CBT gets you on a 125cc bike with L-plates and no pillions. Theory and two-part practical now gains you an A licence. Off you go, enjoy any bike you like. If you have an A2 licence and are over 24 or have held the A2 for two years you can take the practical and also ride anything you like. If you have an A1 you then need to take the full A test to gain a unrestricted licence - you don't need to do the A2 test.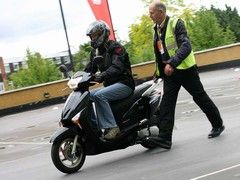 How long til you can out run pedestrians?
What's the difference?
Previously if you passed your test on your 17th birthday you could ride a 33hp bike for two years simply upgrade to a Fireblade on your 19th birthday as you had served your probationary two years. If you were 21 or over then you could do 'direct access' and also gain a full, unrestricted licence with minimal hassle.
Now you are stuck on a 125cc bike until you are 19, then after another test you can upgrade to 47.5hp and stick with this for two years at which point you can take another test to gain an unrestricted licence. So the youngest you can gain a full, unrestricted licence is 21, but only if you have been riding for two years. Previously 21 year olds could go straight to an unrestricted licence, this is now no longer possible until you are 24.
So, is it all doom and gloom? It is annoying for younger learners as you will have to take more tests to gain a full licence as well as possibly a new bike should you wish to upgrade to 47.5hp when you get the A2 licence. So that adds to the cost. But on the bright side there are some great new 46hp bike coming out such as the Honda CB500 and Kawasaki Ninja 300, all of which have enough performance to kick the arse of your mates in their knackered Ford Kas...
Download the PDF flow chart explaining it all here.