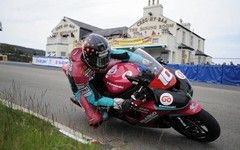 It was Dainese rather than tuxedos at the Westfield Vue cinema last night for the premiere of TT3D Closer To The Edge, the amazing behind the scenes documentary following the fortunes of the top riders in last year's Isle Of Man TT.
Introduced by Murray Walker, whose father won a TT in 1931, stars of the film including some-time narrowboat fan Guy Martin, 'five out of five' winner Ian Hutchinson, Michael Dunlop (Joey Dunlop's nephew) and Manxman Connor Cummins lined up to talk about the film. Tellingly two of this group limped before the audience sporting significant injuries, underlining the sense of danger that pervades the film from beginning to end.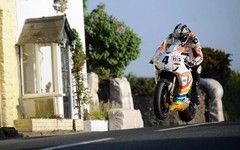 Director Richard Aragues said he didn't want to just make a film for bikers and seems to have succeeded. You don't need to be a TT devotee or even a biker to appreciate the on-screen drama, the basis of which seems tailor made for a film script. After all, there's speed, laughter, sacrifice, death, struggle against the odds ... and quite a bit of chat about masturbation. Yup, viewers of The Boat That Guy Built need to be ready to see a very different side to the mutton-chopped Martin. Indeed, the film presents the TT boys in all their down-to-earth glory and is a breath of fresh air compared with the PR-sanitised world of mainstream motorsport.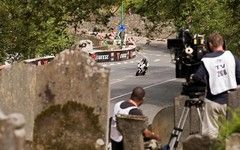 The producers shot over 500 hours of footage, much of it with 3D cameras requiring a team of up to 40 people. The 90-minute running time of the finished piece is beautifully paced too, capturing the calm and reflection as well as the moments of flat-out drama.
Whether you take your speed hit on two wheels or four, we reckon TT3D is a must-see. It's on general release from April 22nd.