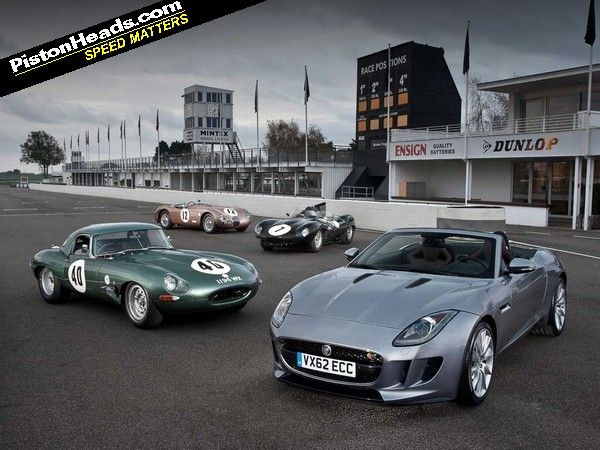 Jaguar says its new, two-seat F-type marks a return to sports car greatness, and took this shot to illustrate the sheer breadth of that greatness lurking in its past.
It's a tough act to follow. In foreground behind the F sits an E-type in semi-lightweight race spec, the performance pinnacle of the car that changed Jaguar's fortunes almost overnight when it was launched in 1961. This car has a thunderous 348bhp from its 3.8-litre six-cylinder engine and weighs just 1,002kg.
Behind that is the famed D-type, a Le Mans winner in 1955 and the following two years. It was one of the first cars to use a monocoque structure and its slippery shape was the result of extensive wind tunnel work. This 1956 car musters 285bhp from its 3.4-litre engine.
And finally there's the C-type, the same car we had a hair-raising passenger ride in round Goodwood (the setting for this shot) in the wet. This car was once owned (briefly) by Juan Manuel Fangio and puts out 325bhp from its straight six, also 3.4 in size.
Traditional (4:3)
Computer widescreen (16:10)
TV widescreen (16:9)
Portrait (smartphone, etc)