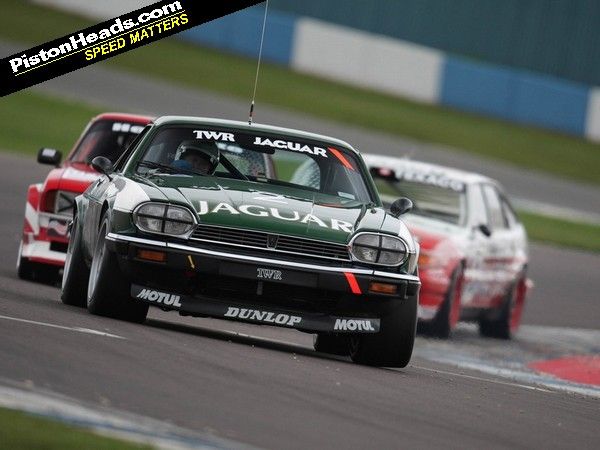 There's little in the motor racing world to rival the sight and sound of classic touring cars going at it hammer and tongs. Iconic models we've come to remember fondly, but wider, and angrier, swapping paint out on a track, with all the accompanying noise and spectacle... well, if it isn't enough to stir your soul, then we're not quite sure what is.
So feast your eyes on this snap, then, which we found while getting together the story on our discount offer for this year's Donington Historic Festival. Captured by Peter de Rousset-Hall during the JD Classics Challenge race at last year's event, it features the sole Jaguar XJS to be entered. Gary Pearson's the man at the wheel, and leading the Hermetite Ford Capri of Tom Pochciol and the Bastos Rover Vitesse driven by Bert Smeets around Roberts and onto the start/finish straight. Pearson's already getting on the gas, as the cocked front wheel of the XJS attests; in the event, the Jaguar nearly went on to win the race, but a spin by co-driver Alex Buncombe just shy of the chequered flag handed top honours to the Escort RS1800 of Mark Wright and David Coyne.
Subtle these TWR XJSs certainly weren't – as Dan can attest to, having had a chance to experience one at full chat up close'n'personal at Goodwood earlier this week. If any further proof were needed, though, check out this video of Walkinshaw himself wrestling one around the Mount Panorama circuit in 1985. It's one of the finest displays of racing driver heroism there is.
Traditional (4:3)
Computer widescreen (16:10)
TV widescreen (16:9)
Portrait (smartphone, etc)