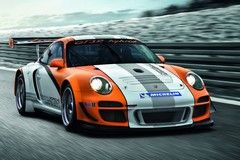 Porsche will unveil this new hybrid racing car in the metal at the Geneva Motor Show next month. The 911 GT3 R Hybrid is a one-off special designed to help develop and promote Porsche's hybrid technology efforts, and the tech being used here is destined to end up in Porsche road cars.
The GT3 R Hybrid uses kinetic energy stored up from braking, in a similar way to F1 'KERS' systems. The normally wasted energy instead goes to two 60KW electric motors on the front axle which act as generators, able to then redeploy that energy in six to eight second bursts.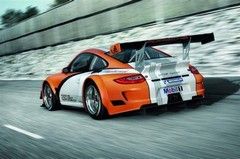 But the innovative thing about this car is the way that it stores its power. Rather than lugging about heavy batteries, a flywheel sits in place of a passenger seat. The wheel can spin at up to 40,000 rpm.
There are no official figures for the amount of extra power the electrical gubbins provides, but with the same 480bhp NA flat-six found in the normal 997 GT3 R as a starting point this is not going to be sluggish.
Porsche boasts that this type of hybrid tech is a real advantage in racing, as it allows them to either run with a smaller fuel tank and save weight, or to run for longer using the existing fuel tank. Presumably with range in mind, Porsche is testing out the new car later this year at the Nürburgring 24 hours race (15-16 May) after its Geneva debut.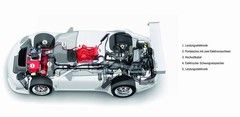 This comes just a month after Porsche's CEO Michael Macht declared that Porsche did not see hybrid cars as a part of its future. However this is not the contradiction it may seem, as Macht did make clear that Porsche was interested in regenerative braking and efficiency. So whilst you're still unlikely to see a Prius-style Porker running on full electric power at low speeds any time soon, an energy-recovering power-boosting hybrid road car is looking to be a pretty safe bet.
As you might expect, our savvy Porsche forum picked this story up this morning, so we've linked that thread to the 'Comment on this story' link below.
| | |
| --- | --- |
| Hybrid is based on 2010 GT3 R | |
| | |