Cameron wants to privatise major roads. But is it the dawn of a new road-building era or a money-spinner for private contractors?
David Cameron will say today that private companies should be brought in to take over the running of motorways and major A-roads.
In plans to be announced ahead of Wednesday's budget, the Prime Minister will launch a feasibility study into how to bring private investment into roads, which could be worth up to 100bn.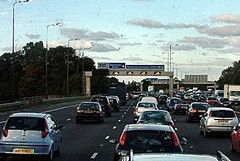 The move is necessary, argue the Tories, as Britain is 'falling behind' the rest of the world in its transport infrastructure and that the UK is 'unique' in having a publicly owned and maintained major road network.
"The problem's clear," says the Prime Minister. "We don't have enough capacity in places of key demand. There's nothing green about a traffic jam - and gridlock holds the economy back."
"So here's what we should do. Yes, move passengers and heavy goods on to rail. But also widen pinch points, add lanes to motorways by using the hard shoulder to increase capacity."
Critics argue that the passing of responsibility for arterial routes to private companies is akin to privatisation, and that the plans would also be a 'back-door' for the introduction of widespread road tolls.
But the government is careful not to use the 'P' word, saying that the roads will remain in state control. It also insists that, while tolls will be a part of the plans, they will only be applied to new capacity - new roads, in other words - as opposed to existing infrastructure.
The privatisation-but-not of the road network would be modelled on the way water was privatised in 1989 - done in order to fund the upgrades essential for a 19th-century system.
PHers are already talking about this. Join in the discussion here