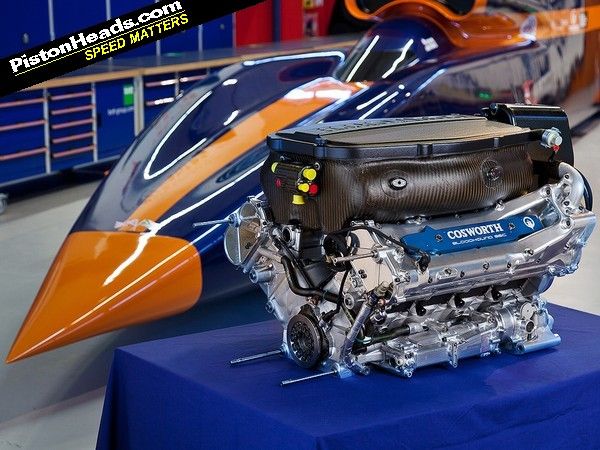 Prodrive is weighing up the possibility of buying F1 engine supplier (and occasional
fuel pump builder
) Cosworth, owner David Richards has said.
The iconic business is up for sale after its US owners failed to float the firm on the stock market. Cosworth is also facing uncertainty over its customers in Formula 1 beyond 2013. Currently it supplies HRT and Marussia.
"We've just started to take a look at Cosworth although I think they have rather over-priced themselves. Nonetheless, worth a look," Richards told the Daily Mail. It's not been revealed what the asking price is, but "senior motorsport sources" quoted by the Mail put it at £40m.
Deal could update V12 first seen in this
Prodrive has long harboured ambitions to return to Formula 1 following its stint running BAR early last decade. It even won a place on the 2008 grid, but subsequently didn't take it up.
It's not just F1 that could be interesting to Richards. As chairman of Aston Martin he may well be keen to make Prodrive an engine customer of the firm.
There's already a Cosworth link in that the powertrain division of Mahle, the German engineering giant that makes V12 blocks for Aston, was formed out of the other Cosworth when they bought it from Audi back in 2004. Prior to that Cosworth designed and made V12 engines for Aston.
1968 Lotus powered by famed Cosworth V8
All very confusing (and possibly not relevant!) but the original firm founded by Mike Costin and Keith Duckworth back in 1958 was split after Audi bought it from Vickers in 1998.
Almost immediately Audi hived off the F1 division and sold it to long-term Cosworth sugardaddy Ford, who used the accumulated knowhow to embark on a largely disappointing F1 career via Jaguar, before selling it to Champ Car World Series owners Gerald Forsythe and Kevin Kalkhoven, also in 2004.
Cosworth is no lame duck [is that a joke? - Ed] despite its current problems. Last year it made £3.9m in after-tax profits and has interests outside its core engine business in defence and aerospace.
Would be great to see it back in British hands and steered by someone with Richards' deft touch when it comes to iconic brands.