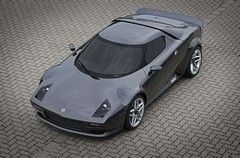 The
mystery of the re-born Lancia Stratos
that has caused so much chatter recently in the webosphere has been revealed - as has the man behind the project.
A new website - www.new-stratos.com - has at last revealed some concrete information about the re-born rally supercar. It turns out that the man behind the project is Michael Stoschek, a German automotive parts supply magnate and keen historic racer.
The project is the brainchild of Stoschek - who won the 1999, 2001 and 2004 Carrera Panamericana road races - and his son Maximilian, and was conceived after the pair met the man behind the 2005 Fenomenon Stratos project, Chris Hrabalek.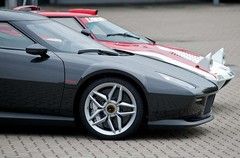 The car itself has been developed by Pininfarina since autumn 2008 and is indeed based on a shortened Ferrari 430 Scuderia chassis, while the body is made entirely from carbon fibre.
Currently the project is a one-off, but a production run of 25 examples has been mooted.
That's it for technical details, but the website says that "further details concerning the technical specification of the New Stratos will be announced in the coming weeks".
We'll keep you posted...