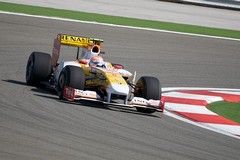 Renault is understood to be looking to sell its Formula One team, and there are two potential buyers in the frame.
After a season of controversy and poor results for its F1 team, Renault's executive committee met in Paris yesterday to discuss the team's future. A board meeting next week will officially decide the F1 squad's fate.
Current front-runners are Prodrive - said to be the favourites of the F1 team itself - and Genii Capital, a Luxembourg-based investment fund.
Although Renault F1 personnel are said to be keen on Prodrive boss David Richards' experience in motorsport, the Renault board apparently favour the Genii proposal, as the team would carry on with Renault branding for two years, despite Genii taking control of the team.
The sale of Renault F1 could throw the driver's market into a whirlwind once again, as Robert Kubica - who is currently signed for Renault - has potential get-out clauses should the team be sold.