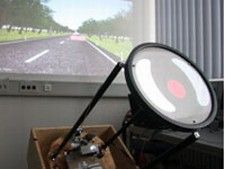 Researchers from various German universities have come up with a prototype touch screen steering wheel.
But before you start worrying that we'll soon be expected to steer our cars as if we're using an iPod scroll wheel fear not - this is a steering wheel that uses a touch screen in its centre for controlling radio or navigation systems.
Although steering wheels already have wheel-mounted controls, the complicated nature of many modern cars and the multiplicity of gadgets and gizmos means drivers often have to look away from the road to focus on in-dash TFT screens.
This steering wheel aims to eliminate that (or at least minimise it). It's the creation of a team from University of Stuttgart, University of Duisburg-Essen and the German Research Center for Artificial Intelligence and is made from an 11mm-thick acrylic surrounded by a ring of infrared LEDS. At the bottom (the centre of the wheel boss, if you like) is an infrared camera, which detects reflections on the surface of the screen when you touch it
Following a series of tests, the team has concluded that the technology could significantly reduce the amount of a time a driver would need to take their eyes away from the road. The research team is apparently currently discussing with car makers the possibility of getting the system into a prototype vehicle.