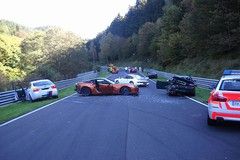 An eight-car accident on the Nordschleife at the weekend has put one driver in hospital with serious injuries, and claimed both one of the new E90 BMW M3 'Ring taxis and a rented Corvette Z06 among its automotive victims.
According to the police report, the accident happened on the Bergwerk section of the track at around 2pm on Sunday, where the track was in the process of being repaired.
Three cars were already slowing for this, when a fourth driver, apparently a Brit failed to spot the slowing cars and was unable to avoid a collision. He then hit the Armco, before coming back onto the track and hitting two more cars.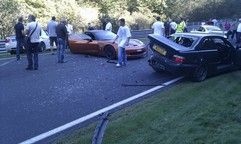 Three other cars managed to slow down approaching the incident, but one was hit from behind by the 'Ring taxi.
As well as the seriously injured driver, two others were taken to hospital, but were later released.
In terms of damage to the cars, the Rheinland Pfalz Polizei reckon that there was around 100,000 euros-worth of twisted metal. And a deeply miffed Corvette rental company, no doubt...
The incident is already being thoroughly dissected on the PH forums here