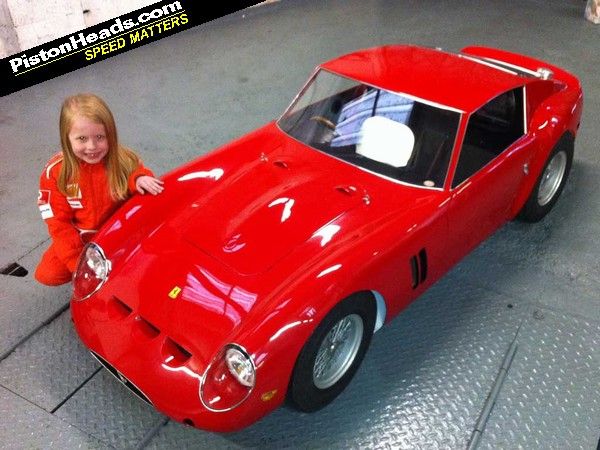 As a petrolheaded youth, what's the exact thing you always wanted more than anything else? We'll wager it was likely a you-sized car. But the closest you probably got was a Little Tikes Cosy Coupe, or if you were extremely lucky, one of those electric jobs you can pick up in the shops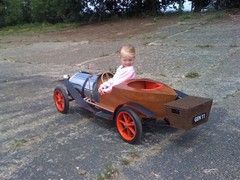 Chitty replica was the first
Stuart Gurr's six-year-old daughter Scarlett was fortunate enough to get one of the latter; an electric-powered Mini, to be precise. But Stuart didn't quite feel it was... well... special enough for his firstborn. And when Scarlett grew fond of the film Chitty Chitty Bang Bang, he hit on a brainwave: he decided to build his own.
The result was the first of several cars Stuart's since built for Scarlett - a kid-scale Chitty replica. Stuart's day job as a classic Mini restorer and parts fabricator helped. "As she's grown up, I've set myself more and more difficult challenges," he tells us, those challenges having included a series of Type 35 Bugattis, two for Scarlett and then another for her little sister Maddi; a blower Bentley; an AC Cobra, and the latest a Ferrari 250 GTO. Like most of Stuart's other cars, the 250 is built from aluminium panelling which covers a space-frame chassis, both entirely hand-built (Stuart even made the wheels himself), and powered by a 50cc kart engine giving it a top speed of 10-15mph.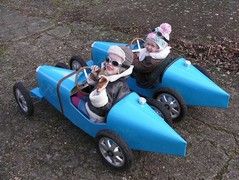 Pair of Bugattis built for Scarlett and sister
But Stuart isn't done yet. "Next up I'm planning a Mercedes 300SLR coupe, which will have an eight-cylinder engine," he says. No such engine exists yet, though, so he'll be building it, and the transmission to go with, himself. Stuart's hoping this one will take part in the Little Big Man race at the Le Mans Classic next year, with Scarlett at the wheel. She's already joined the British Womens' Racing Drivers Club – the association's youngest member. "She's a good driver," Stuart says. "I've even said to her that one day she might be able to make a living out of it if she works hard enough."
And if one project wasn't enough, Stuart's also planning a drift Caterham Seven, to keep her entertained in the interim. "We were at the Autosport show and she saw the Caterhams drifting up there and said she wanted one that drifted too," Stuart says. "Obviously I don't want to give it too much power so I'm going to have to do something with the rear tyres to make it drift!"
You can find out more about Stuart's creations at the website he's built, or check out his Youtube videos of them in action.