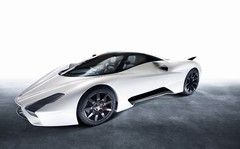 Inspired by ... actually let's not go there
SSC has clearly been studying the supercar oeuvre very carefully, the pretentious name for its
Veyron-humbling Tuatara
suitably exotic and apparently inspired by a spiny lizard. A pity they didn't clinic the name this side of the pond though. And, no, we haven't stopped sniggering yet.
Daft moniker aside the 1,350hp Tuatara is a deeply serious piece of kit and one that SSC hopes will earn it a place at the table with the likes of Pagani. Indeed, there's a definite desire to move way from the image of horsepower crazed good ol' boys with a vmax fixation and little else. Though, having said that, the headline grabbing 275mph target top speed for the Tuatara remains the stand-out figure.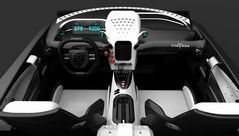 What, no walnut trim?
That's not enough for SSC though and the car will, in time, be despatched to the Nürburgring in an attempt to prove American supercars can do corners as well as big speeds.
For its debut at the Dubai International Motor Show this week SSC has revealed what the interior of the Tuatara will look like and, fair to say, it's every bit as distinctive and stylish as the exterior. In keeping with the jet fighter performance SSC has gone to town with the aircraft-inspired features, numerous head-up displays boasting to driver and passenger alike exactly how rapidly you're travelling. Ferrari has a similar option on the FF, SSC claiming the additional speed and G-force readouts will help the passenger feel "more of a co-pilot instead of just a tag-along." And, in case the point about the ridiculous name hadn't quite been hammered home there it is again, boldly embroidered into the dash.
Other features include a starter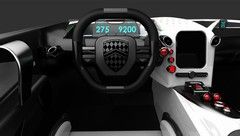 Impressive numbers on the configurable HUD
button that initiates a countdown of red lights around it that illuminate in sequence before the 1,350hp, SSC-built 6.8-litre V8 (what else?) bursts into life.
No word yet on whether SSC will offer a BMW-style de-badge option for the UK but we can only hope.